As parents, we know the importance of stimulating children with English language. I have always thought that younger people find it easier to learn another language, since they have the ability to learn the language innately without any effort and because of the ability to absorb and assimilate quickly and easily the information. Thus, I thought it was the right time to give my children the correct linguistic stimulus; but guided by professionals.
A friend recommended me All Right and it has been amazing! It is an online English school with a dynamic and fun method that my children love so much. Through this platform, I have been able to see how they have developed linguistic skills, attention, concentration and new knowledges.
I have two sons and I have thought about how difficult it should be if they were together in the same class because they have different ages, one is 4 years old and the other one is 5, so you could imagine. But, I loved it when I knew that they would have individual lessons focussed on the learning needs of each child, besides All Right allows to choose the teacher that you want and the time table more convenient for us
What more draw my attention is that they are all native teachers and have an incredible capability to work with children. They are pleasent, smiling and make clases very fun. In this way, children pay more attention and absorb the information effectively. This platform is so incredible that, counts with methods to practice the language through conversation groups and games to improve vocabulary which make children to intensify their learning and share it with other children in same age.
My sons like interactive classes as they allow them to play, paint and develop their creativity together with the little fox Charlie. They are never tired! Children learn grammar, develop vocabulary and improve conversational skills through Cambidge's communication methodology, where more than 50% of the classes, students communicate in English. I recommend it 100%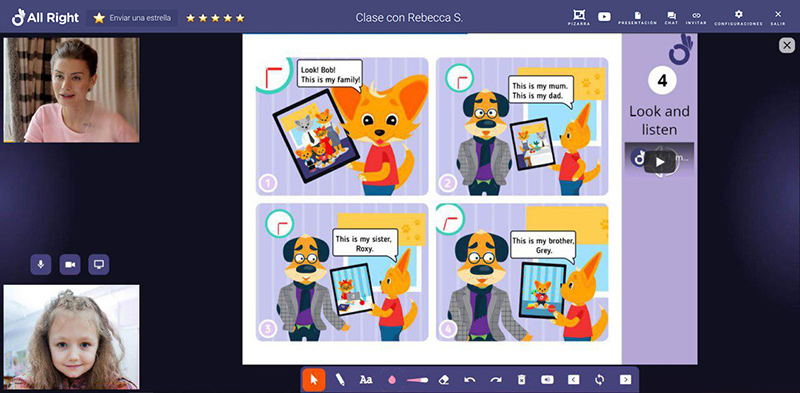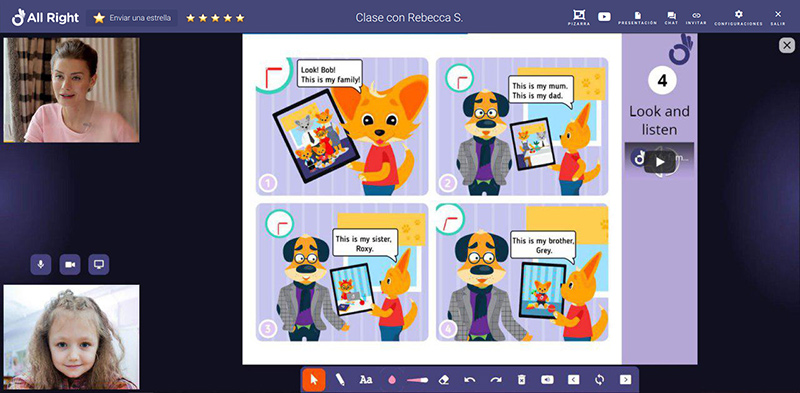 The best thing is that you can have the opportunity to have a free lesson to learn, have a quick look to platform, see the contents and be clear about the subject of the course.
To book the free lesson, just press the button "subscribe to a free lesson" and that's it. You can register with your data and then, if you like it, you can buy the course.
Register with the promo code YADEMASMAMA and you will get two free lessons with the purchase of any pack of lessons. That's great!
We are very pleased and reccommend, not only because of the teaching method; but also for the warm attention to parents, children and for the immmediate solution to any questions.